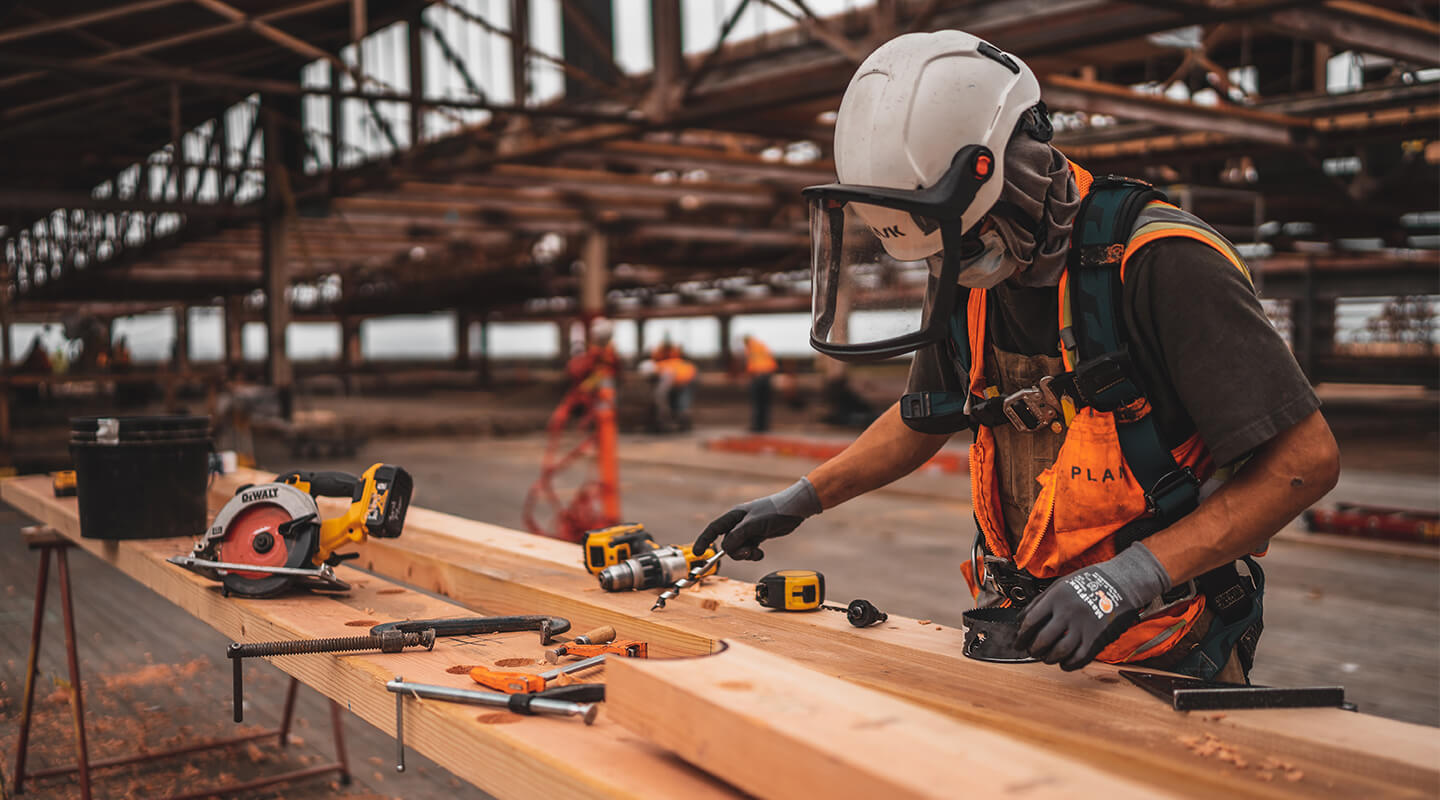 Construction companies face a lot of unique challenges when it comes to managing their payroll. From workers' compensation to taxes, it can be overwhelming for contractors and construction companies to keep up with the intricate demands to maintain compliance.
But it doesn't have to be this complicated.
With the right construction payroll service provider, you can simplify and streamline your business operations, giving you the flexibility to get back to the work that really matters.


Understanding Construction Payroll Services
There's a lot happening in the world today that impacts payroll. Since March of 2020, many construction companies have had to deal with PPP loans as their client contracts were put on hold - or even canceled completely - thanks to the still-ongoing global pandemic.
With COVID only adding more stress on top of the normal headaches of construction company payroll, the need for a solution to simplify operations becomes obvious. But, what kinds of payroll services do contractors and construction companies need?
Unique Challenges of Construction Payroll
There are a lot of payroll services out there that market to construction companies but fail to deliver the level of service desired.


Complex Pay Rates
Nearly all businesses require payroll processing at various pay rates, but construction companies have some unique challenges when it comes to employee pay rates. Many construction companies must process payroll for workers in multiple states, unions, or different trades.
Construction companies have specific needs from their payroll providers, including the ability to withhold union dues, process union vacation benefits, track time and attendance, and more. You'll need your payroll service provider to be able to handle these complex pay rates and benefits to process payroll effectively.
Mobile and Support Needs
Construction companies have uniquely mobile needs from their payroll solution. You may need to pay employees or access timecard tracking data or reports from a job site. Your employees may need to access their timecards or other payroll self-service features on the go, as well, making mobile access essential for construction companies and employees.
Additionally, contractors come to us all the time because their current payroll service is too difficult to reach during business hours. Voicemail messages are ignored, and their calls aren't returned.
Another complaint we hear is that even when some payroll services respond, they respond to requests too slowly. When your company is trying to move at the speed of business, but payroll problems hang unresolved for too long, it can have a negative impact on the entire business.
Pricing Challenges
We find a lot of times, construction companies have been oversold by their payroll service providers. This often happens when the payroll provider sells one-size-fits-all packages that aren't tailored to each company. The result is that contractors are often left paying for extra services they don't really need.
Essential Features of Construction Payroll Services
Life is much easier when your construction payroll service actually understands what construction companies need.
Partnerships and Connections That Make Business Work
When a payroll company is actually connected, it makes doing business easier. For example, at ConnectPay, we have an in-house tax team, and we work closely with expert local partners in workers' comp, accounting services, and many others. We leverage these strong connections to ensure our construction customers always have an answer to their questions and resolve their payroll issues without the nightmare of a never-ending back and forth.
Time and Attendance Solutions
Time clock tracking is a must-have in construction payroll. Contractors are always in and out of projects - large and small. Employees are shifting between job sites on a regular basis, sometimes multiple times per day. Construction companies need a time clock solution that can keep track of punches automatically, and it's even better if this information can be synced directly with their payroll platform.
At ConnectPay, for example, we integrate with OnTheClock, which is a powerful time clock solution for construction companies. Most notably, OnTheClock has the ability to provide geofencing, which uses GPS software to auto-tag employee time punching based on their geolocation. This enables contractors to monitor where their employees are logging their hours by job site, all automatically.
Cost Accounting
Another area of need for construction companies is the ability to track and allocate supplies, labor, and expenses by the job. With multiple projects going at the same time, even if two jobs are in the same house - like a basement finishing and a kitchen remodel going simultaneously - there is a need to track spending by location and project to ensure you meet your profitability goals. Payroll is a big part of that.
Attentive Customer Service
Nothing is more frustrating than paying for a payroll service, running into an issue, and then having all of your phone calls hit voicemail. It's even worse when it takes hours or days before that voicemail gets a response - if at all.
Attentive customer service is key to keeping your construction company running smoothly, and your employees paid correctly and on time. Your payroll service needs to be invested in that.
At ConnectPay, we pride ourselves on never letting calls go to voicemail during business hours. That's a huge reason our customers love us. Our clients are on a first-name basis with their payroll experts.
Local Insight and Regulatory Expertise
Your payroll service is going to need in-depth knowledge of the labor and tax laws of your local state and industry. Every state is different, and labor laws can change dramatically from area to area.
You need a payroll representative who is local and knows your area. That's the only way to guarantee their knowledge and processes meet the regulatory requirements of your business.
'Pay As You Go' Workers Compensation Integration
Workers' comp is a necessary and vital expense in the construction industry. Paying all of your workers' comp upfront in a single lump sum is expensive and inefficient. Not only that, but it actually leads to more surprise audits and additional payments down the line.
Pay As You Go ensures that your exact payment amounts are calculated and sent to your carrier each and every pay period. This eliminates those annoying end-of-year audits and improves your monthly cash flow.
When you pay as you go, you only pay for what you use.
Top Construction Payroll Service Providers
Provider

Features

Pricing

ADP

Mobile time & attendance tracking
Benefits processing
Payroll that accounts for union rates
Workers' Compensation Assistance

Quotes By Request Only

Payroll4Construction

Construction-specific reporting defaults
Workers' compensation tracking
Online interface

Quotes by Request Only

ConnectPay

Connects you to local experts
Payroll processing
Workers' compensation tracking
Compliance
Time and attendance
Seamless mobile access
Automated pay and compliance updates
Connected customer support

Starts at $30 per payroll
ADP offers a payroll solution for construction companies that includes features like mobile time and attendance tracking, flexible benefits processing, robust payroll that accounts for union rates, workers' compensation assistance, and more.
ADP is a better solution for larger, enterprise-level businesses, but it does offer packages for mid-sized businesses as well. Pricing for all ADP packages is available only upon request.
As their name suggests, Payroll4Construction offers payroll services specifically for construction companies. They offer construction-specific reporting features for union information, EEO, and more. Additionally, this service offers workers' compensation tracking and an online interface that enables employers to process payroll from remote locations.
Similar to ADP, Payroll4Construction's pricing is available only upon request.
ConnectPay offers small business payroll solutions that connect your business to local experts who specialize in the taxes and workers' compensation requirements in your area. We offer solutions for payroll processing, workers' compensation, compliance, time and attendance, and more.
ConnectPay's solution comes with seamless mobile access and automated pay and compliance updates, enabling you to run the rest of your construction business without worrying about constantly keeping tabs on your payroll processes.
Our pricing is simple to understand and easy to remember: We start at a flat $30 per payroll. This includes direct deposit, an online employee portal, federal and state tax filing, and quarterly and annual reporting function. Get started by talking to a Connected Service Rep today to learn more!
Choosing the Best Construction Payroll Service
At the end of the day, payroll services are supposed to work for you. First and foremost, their job is to keep your payroll running and your business compliant. Understanding labor and tax laws is critical to your company, and you need a professional that has the local knowledge to do so. Secondly, payroll services simply need to make it easier for you to run your business.
A payroll service that can make payroll accurate, easy, and integrated is the ultimate goal.
If you would like to see how ConnectPay's integrated payroll service is making life easy on construction companies and contractors, schedule a call with us today.