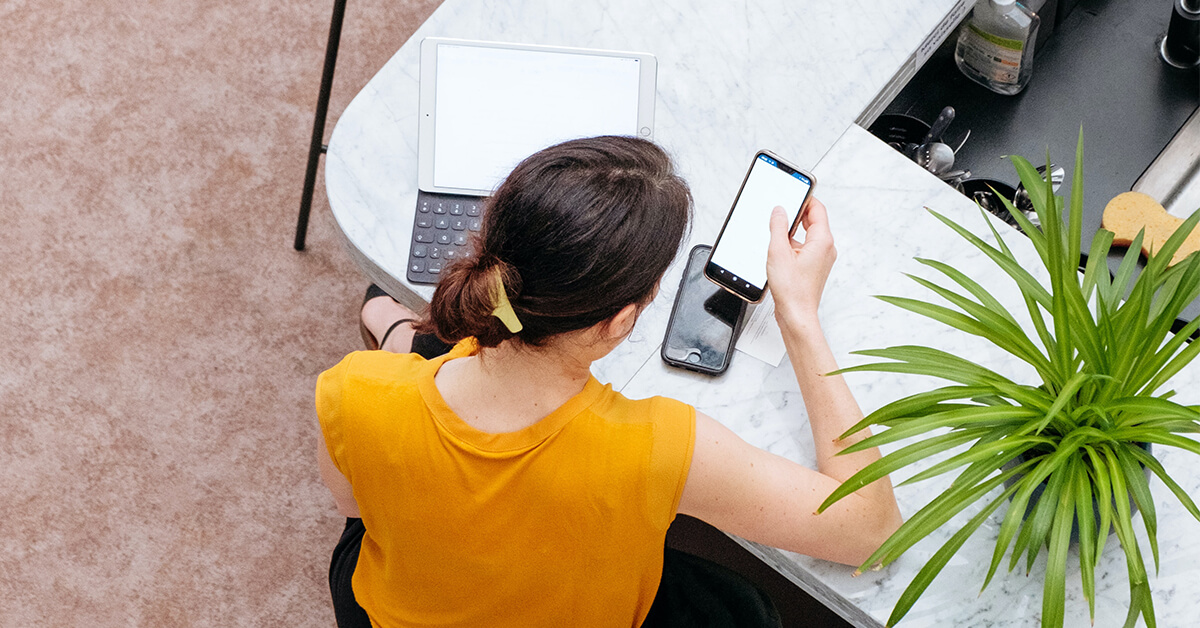 With our world's growing need for convenience, more than 68% of all website visits now occur via mobile phone. This data indicates that if you're looking for ways to become an employer of choice, you should be investing in the mobile experience. But will your employees truly benefit from using a payroll app?
Let's examine a scenario for a moment. Imagine that your employee is applying for a new apartment and the application requires two months of pay stubs. Without a way to immediately access their pay stubs on their phone, they'd have to wait to apply, potentially losing out on their dream apartment in the process.
While this scenario can be rectified through a mobile payroll app, there are some hesitancies around these applications. For that reason, this post will examine the top pros and cons of giving your employees access to a mobile payroll application.
What Does A Mobile Payroll App Do?
Before we dive into the pros and cons of mobile apps, we need to answer a foundational question: what will a payroll app do?
Although features and functionality depend on your payroll provider, generally speaking, payroll applications give your employees a way to access important information on their phones without wasting paper. Employees would be able to easily pull up:
It's important to note that not all mobile-friendly payroll applications need to be downloaded from an app store, but instead can be accessed directly through the browser on your phone. For example, at ConnectPay, our top priority is convenience and compliance for all our partners and clients, so we offer your employees log-in access through any mobile web browser. Employees can receive a text every payday to be notified when their direct deposit has been processed, with an easy link to their pay stub portal.
Once you decide whether the functions listed above are helpful to your employees, the next question to ask yourself is: should you encourage your employees to use a payroll app? Let's examine some of the pros and cons!
Pros of Mobile Payroll Apps
Convenience
One of the clearest pros of mobile payroll applications is convenience because employees can access their pay stubs or W-2s in minutes. This is especially important for those that work in on-the-go industries, like trucking or construction, where desktop computers aren't immediately available.
In turn, giving employees mobile access can also free up time for HR staff or management who may normally need to provide that information upon request, making your internal processes more efficient.
Looking for more efficiency tips? Download our 6 Pillars of Payroll!
Sustainability
Another key benefit to mobile payroll apps is increased sustainability, taking you one step closer to paperless payroll. If you use direct deposit to pay your staff, then employees can access their pay stubs directly on their phones anywhere, anytime. This allows you to cut out paper checks altogether, making it easy for you to go green and reduce waste.
Cost-Efficiency
Not only does eliminating paper checks lower your carbon footprint, but it can also save you money. When employees are encouraged to use a payroll application to keep track of their pay stubs, you can cut out unnecessary printing, shipping, and labor fees. For example, since direct deposit is free at ConnectPay, 70% of our clients opt to go green over mailing out costly paper checks. If you'd like to hear more about our paperless payroll options, you can reach out to one of our Connected Reps here.
Cons of Mobile Payroll Apps
Usability
Some mobile payroll apps may have limited functionality when compared to desktop devices. However, the application's user experience will largely depend on your payroll provider. Some options may be better than others, so it's important to ask your payroll provider what their capabilities are.
Security
The other main concern surrounding mobile payroll apps is security. With such sensitive information attached to payroll, some fear that a mobile device may leave employees more susceptible to data breaches. However, the data isn't being stored on their device – instead, it's encrypted and routed over the internet. As long as your employees continue to follow cybersecurity best practices, security should not be an issue. In fact, accessing pay stubs through a payroll app is safer than leaving a paper trail behind.
Why Employees Enjoy The Payroll App Experience
Though some employers may still be nervous about employees using mobile payroll apps, there are far more benefits than there are drawbacks. Employees and managers alike will appreciate the convenience and efficiency these mobile applications offer.
With that being said, a mobile payroll app without having a good payroll provider will only take you so far. If you'd like to partner with an experienced payroll provider that focuses on small businesses, schedule a call with our team today! Your employees can access our intuitive payroll platform through any desktop or mobile device – and if your business ever runs into any issues, our dedicated service team will be standing by to help!