We just released our new and improved website, filled with free tools and resources that can help you manage your small business while staying on top of the latest industry updates. Let's explore the new features you have at your fingertips!
Payroll Login
You can now access all of your logins in one place. Sign into your payroll, timeclock or HR Resource Center account, as well as watch payroll demos or perform a secure transfer, all via our Log In Page. page To arrive to the Log In screen, simply click the green Log In button on the right-hand corner of any page on our website.
For quick and easy access to your payroll account, you can also bookmark the direct link to our portal!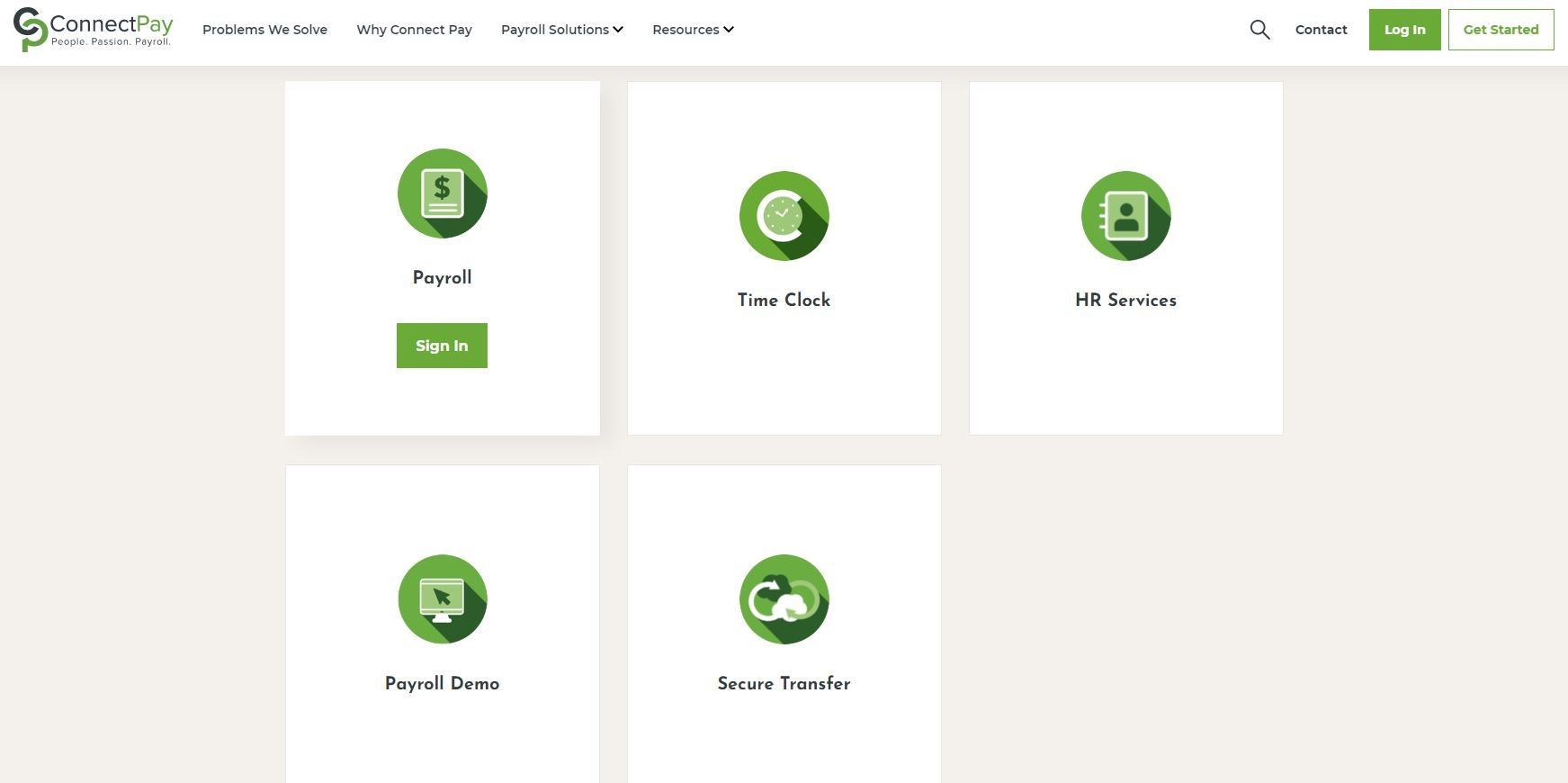 Employer Forms
Under the Resources tab, you can find the Employer Forms page, where you can download key forms to easily manage your employees, from W-2s to 1099s and direct deposit forms.
6 Pillars of Payroll
Optimize your business and save costs by understanding the processes that touch payroll. Our 6 Pillars of Payroll checklist outlines key tips you need to know for business efficiency and compliance, diving into payroll, pre-tax benefits, workers' comp, bookkeeping, retirement savings and HR. Download the checklist on our Problems We Solve or Why ConnectPay pages.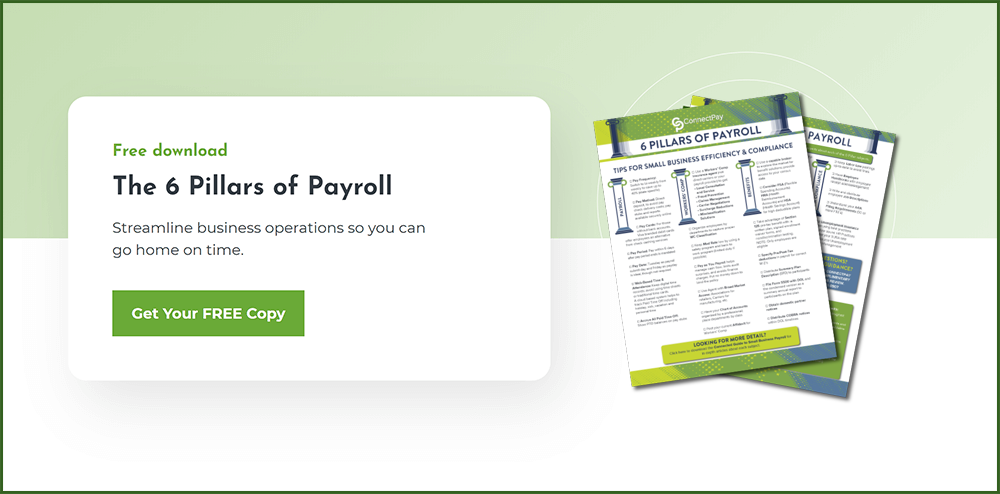 Webinars
Knowledge is one of the best ways to ensure success – and we're committed to your success! From PPP breakdowns to year end tips, our webinar recordings are completely free to access. You can also watch our webinars under the Resources tab.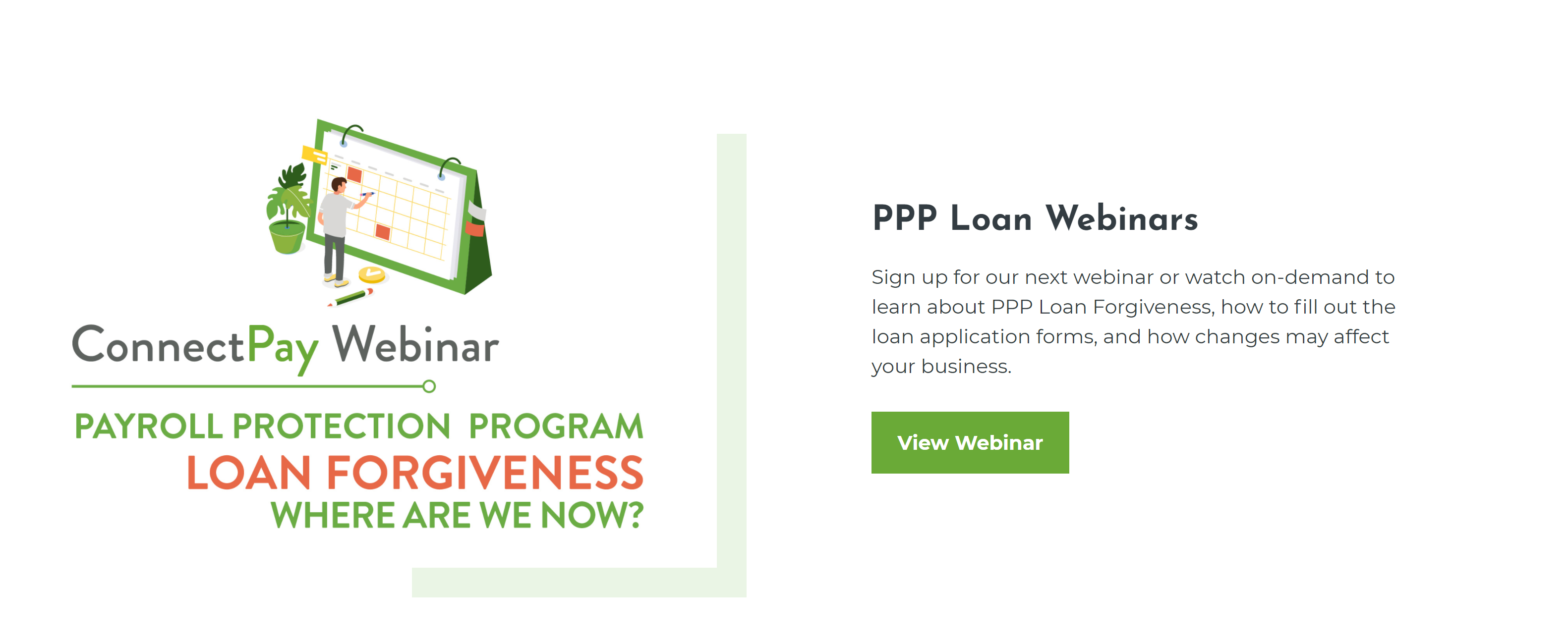 PPP Loan Forgiveness
In the wake of COVID, if you're struggling to figure out PPP Loan Forgiveness, we have compiled all of your needed resources in one place. Read our step-by-step guide to forgiveness, download your forgiveness forms or complete your covered period worksheet on our PPP Loan Forgiveness page, accessible at the top of any page on our website.
Blog
Our blog is your direct line to industry insights, compliance updates, payroll FAQs and more! Along with the latest payroll news, enjoy heartwarming features on small businesses, inside looks into our dedicated team, and tips and tricks to run your business efficiently.

Labor Law Posters
When labor laws change in your state, your labor law posters must also reflect these changes. Stay compliant by utilizing our Poster Store, located under our HR Solutions tab. You can order a single poster or a poster subscription that automatically sends you updates.

Software Demos
Want to make the most out of your payroll software? We have compiled helpful Demo Videos that walk you through the best ways to use our payroll software efficiently. Check them out under our Resources tab!

Help Desk Requests
While we hope these resources keep you better prepared, we know our expert Connected Service Representatives can handle any unexpected issues or questions that may arise. Should you need additional help or advice, you can place a request on the Help Desk page or call your local office directly!