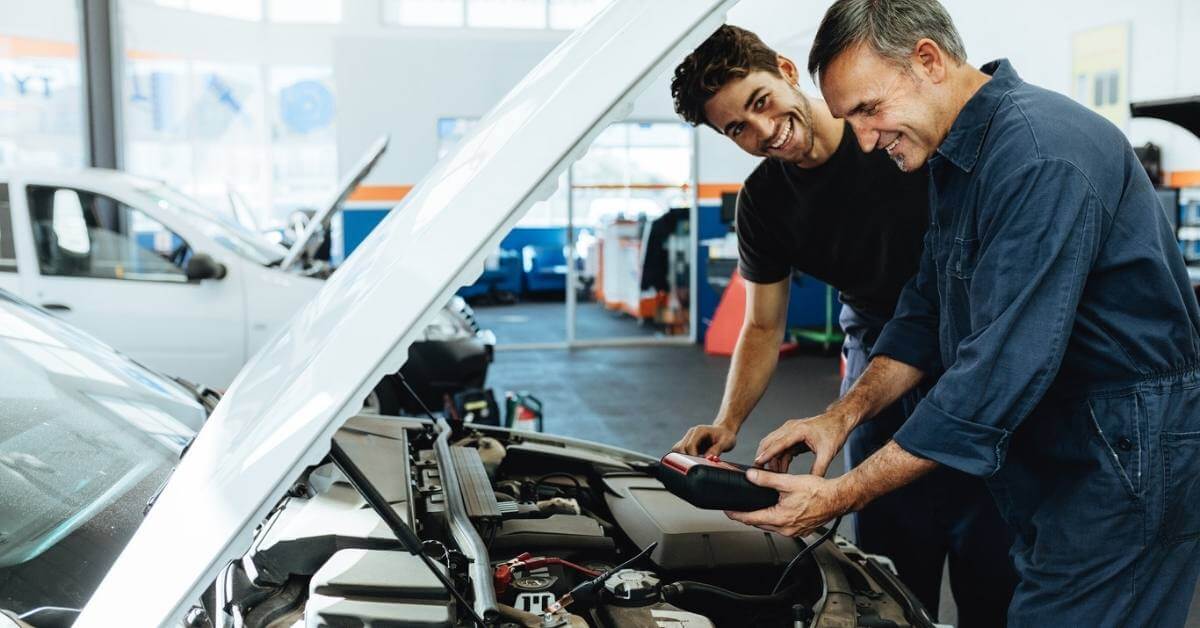 Why do most people start an auto repair business? For many, it's the reward of working with their hands, a desire to support their community, or, of course, a love of cars.
No one starts an auto repair shop because they love processing payroll.
Payroll likely isn't your favorite part of running your auto repair shop. Instead, it's a necessary task: Something you must sink your time and energy into to keep your employees' paychecks coming and maintain compliance with regulations and business laws.
But wouldn't it be nice if it didn't have to be such a headache? With the right software, payroll processing can be smoother, easier, and less time-consuming.
This post will cover the key features every auto repair shop needs for its payroll software.


Auto Repair Shop Payroll: Unique Challenges
People are always in need of maintenance and car repairs. You'll always have a steady stream of customers (especially if you provide stellar work and customer service), you set your own hours, and the growth potential is high.
With growth comes the need to hire a team of skilled employees. Once it's not just you doing all the work, running your auto repair shop requires you to wear many different hats. Managing employees means managing payroll, which creates unique challenges:


Different worker classifications

: Some employees will be salaried staff and fall under the W-2 classification, while others will be independent contractors and fall under the 1099 classification.
You'll expect employees to follow your schedule, but independent contractors decide when they work.
In a busy auto repair shop, your time is limited. You'll oversee work done by your employees, open and close your shop, and manage schedules, payroll, and benefits.
You also have to contend with sourcing parts for car repairs, handling vendors, battling supply chain logistics, and trying to complete projects on time. Let alone the rising prices of parts.
Instead of getting overwhelmed, you can outsource at least one of those tasks. The best payroll software must handle regular turnover, a flexible billing system, and seamless transitions when setting up payroll for staff.
1. Workers' Compensation
Workers' Compensation ensures workers who injure themselves on the job or as a result of the job receive benefits. Benefits vary from state to state, but you'll need to provide workers' compensation to your employees.
This is especially true in an auto repair business where employees handle heavy machinery, could suffer chemical burns, and might overexert themselves. Workers' comp also protects your business. Employees who accept workers' compensation can't sue for an injury.
Some payroll providers take care of Workers' Comp for you. Instead of paying a lump sum, you should consider a pay-as-you-go option. In a pay-as-you-go plan, your premium is based on your actual payroll and exposure risk, so you only pay for what you use. This way, you avoid lump sum audits and surprise payments.
2. Intuitive Time and Attendance
To ensure you're paying employees correctly and reducing costly errors, you need an intuitive way of tracking time and attendance. Punch and key cards are old hat. Doing it manually doesn't cut it anymore. It's time-consuming for you and demonstrates to your employees that you're not moving with the times.
With time and attendance tracking built into your payroll system, you can easily track time worked, vacation, and sick days, and manage team schedules. You can approve shifts and manage shift swaps with an intuitive system.
It's better for your employees, too. Much of what you do in an auto repair shop is labor-intensive. Regulations for wage and hour rules can be confusing, but you should closely monitor things like overtime and meal breaks to ensure staff is safe.
Pro tip: With geofencing capabilities, you can use GPS to auto-tag an employee when they punch in based on their location. This feature can verify that your employees are on-site and logging their hours in the right place.
3. Automation Features
Automation is all around us. Many of us setup monthly and weekly deliveries and automatic bill payments. Netflix automatically plays the next episode. Automation saves time. It saves hassle, and it reduces human error. With enough on your plate, wouldn't it be nice to have automated payroll?
With automated payroll, you can:
Pay your employees accurately and on time
Set up payment schedules
Manage withholdings and benefits deductions
Adjust hours for PTO and vacations
Submit payroll
Offer employee access to pay stubs and checks
Handle workers' compensation
File federal, state, and local taxes
File and distribute employee tax forms
And more!
It can't do everything for you, but automation makes your life easier. With less time spent worrying about payroll, you can focus on quoting for repairs, providing excellent customer service, and training employees to do great work.
4. Simplified Reporting
No matter your business, you want to know the in's and out's of what's happening daily, week-to-week, and six months down the road. But you don't want to spend your time staring at multiple complicated reports. When it comes to payroll, there are certain things you need to know and others that are unnecessary.
Most business owners frequently refer to the comprehensive payroll report. This reports helps you to monitor the health of your business, use payroll reports to fill out forms, prepare for IRS audits, and manage any workers' compensation claims.
Reports like employee summaries make managing your employees' data, worker classification, and tax information easy. Choose reports that help you efficiently run your auto repair business, from payroll summaries to PTO reports and even error reports.
Related: 8 Simple Ways to Help Your Small Business | ConnectPay
5. Paperless Payroll
It's not uncommon to walk into an auto repair office and see tons of paperwork. From paper invoices to paper inspections and receipts, it's safe to say there's a lot of paper flying around. Recent advancements are seeing more shops going digital, and payroll is no different.
Instead of preparing and delivering checks, handing out paper tax forms, and managing paper payroll records, embrace payroll services and apps. Mobile payroll apps often allow access to staff schedules and make it easy to manage shift changes and communication with employees.
Paper is easy to lose and hard to access, so paperless payroll is an attractive perk your employees. Instead of requesting pay stubs from HR, employees can access their W-2s, pay stub history, and tax documentation with speed and ease.
6. Personalized Support
It can be incredibly frustrating to call your payroll provider and wait up to an hour to speak to someone. Then some reps can't answer even the most basic questions. The problem with big box payroll providers is that they know you don't want to do this alone.
They also know that you don't understand the IRS's legal jargon and you're worried about fees and penalties. And you might be thinking that switching to another provider is too hard. But the cost of not switching can be more costly.
As a small business owner, you deserve a responsive payroll provider with dedicated experts who can answer your questions and provide referrals to trusted, local experts who can help you understand and manage HR, Workers' Comp, and 401ks.
Your business isn't the same as anyone else's. So look for a payroll provider who will identify gaps and opportunities in your payroll process, provide tailored solutions, and guidance and support.
Managing Auto Repair Shop Payroll The Easy Way
If you want to spend less time managing your payroll and more time running your auto repair business, finding a payroll solution with the features listed in this post is a fantastic place to start.
However, there is more to a painless payroll solution than finding the right software. To run payroll without the headaches, you'll need expertise in payroll taxes, Workers' Comp, and more.
No business owner has in-depth knowledge in all of these areas. That's why you need to leverage connections with local experts in these areas to ensure you're always maintaining compliance and managing your payroll the right way.
ConnectPay helps your business by providing a software solution with all the features you need for your auto repair shop payroll processes and connecting you with experts in local requirements for Workers' Compensation and taxes.
Schedule a call with a Connected Service Representative today to see how ConnectPay can help you manage your payroll without the stress.