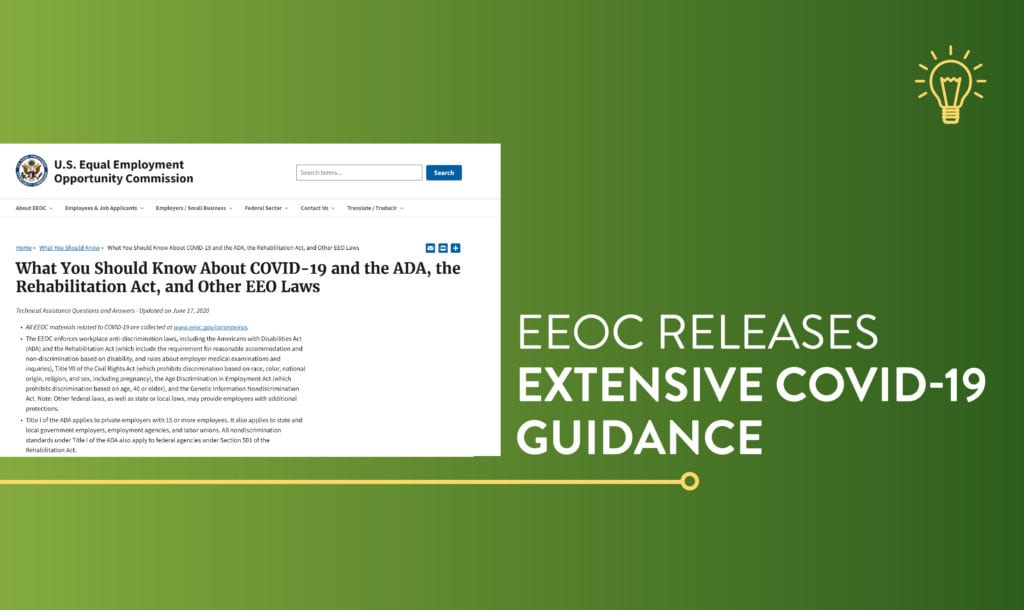 In early May, the Equal Employment Opportunity Commission published extensive guidance for employers and employees on how various laws and regulations apply to the pandemic. Below are some highlights, but it's a good idea to review the entire page.
Can an ADA-covered employer take the body temperature of employees during the COVID-19 pandemic?
Yes. Generally, measuring an employee's body temperature is a medical examination. Because the CDC and state/local health authorities have acknowledged community spread of COVID-19 and issued attendant precautions, employers may measure employees' body temperature.
May an employer administer a COVID-19 test before permitting employees to enter the workplace?
Yes. The ADA requires that any mandatory medical test of employees be "job related and consistent with business necessity." Applying this standard to the current circumstances of the COVID-19 pandemic, employers may take steps to determine if employees entering the workplace have COVID-19 because an individual with the virus will pose a direct threat to the health of others. Therefore an employer may choose to administer COVID-19 testing to employees before they enter the workplace to determine if they have the virus.
May an employer postpone the start date or withdraw a job offer because the individual is 65 years old or pregnant, both of which place them at higher risk from COVID-19?
No. The fact that the CDC has identified those who are 65 or older, or pregnant women, as being at greater risk does not justify unilaterally postponing the start date or withdrawing a job offer. However, an employer may choose to allow telework or to discuss with these individuals if they would like to postpone the start date.
If a job may only be performed at the workplace, are there reasonable accommodations for individuals with disabilities, absent undue hardship, that could offer protection to an employee who, due to a preexisting disability, is at higher risk from COVID-19?
Yes. There may be reasonable accommodations that could offer protection to an individual whose disability puts him at greater risk from COVID-19 and who therefore requests such actions to eliminate possible exposure. Even with the constraints imposed by a pandemic, some accommodations may meet an employee's needs on a temporary basis without causing undue hardship on the employer. Flexibility by employers and employees is important in determining if some accommodation is possible in the circumstances.
May an employer ask employees now if they will need reasonable accommodations in the future when they are permitted to return to the workplace?
Yes. Employers may ask employees with disabilities to request accommodations that they believe they may need when the workplace re-opens. Employers may begin the "interactive process" – the discussion between the employer and employee focused on whether the impairment is a disability and the reasons that an accommodation is needed.
Are the circumstances of the pandemic relevant to whether a requested accommodation can be denied because it poses an undue hardship?
Yes. An employer does not have to provide a particular reasonable accommodation if it poses an "undue hardship," which means "significant difficulty or expense." In some instances, an accommodation that would not have posed an undue hardship prior to the pandemic may pose one now.
Again, managers and employees should consult the full range of guidance, which the EEOC may be updating in the coming days and weeks.