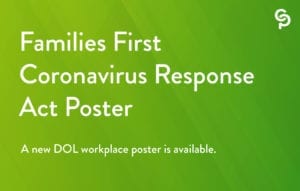 A new workplace poster from the United States Department of Labor ("DOL") that will satisfy the employer's notice requirements under the new Families First Coronavirus Response Act ("FFCRA"). The poster should be posted in the workplace, and/or emailed to remote workers by April 1st, 2020. Click Here for the Poster.
Up to two weeks (80 hours, or a part-time employee's two-week equivalent) of paid sick leave based on the higher of their regular rate of pay, or the applicable state or Federal minimum wage, paid at:
100% for an individual subject to a quarantine related to COVID-19, up to $511 daily and $5,110 total

2/3 for caring for an individual who is subject to quarantine due to COVID-19, or is in self-quarantine recommended by a healthcare provider, up to $200 daily and $2,000 total


Up to 10 weeks more of paid sick leave and expanded family and medical leave paid at 2/3 for caring for a child whose school is closed due to COVID-19, up to $200 daily and $12,000 total.
A part-time employee is eligible for leave for the number of hours that the employee is normally scheduled to work over that period.
All covered employers must post this notice even if their state provides greater protections than the FFCRA.
For more FAQ's regarding the poster, please see the DOL website
For more Resources, visit ConnectPay's COVID-19 Small Business Resource Page