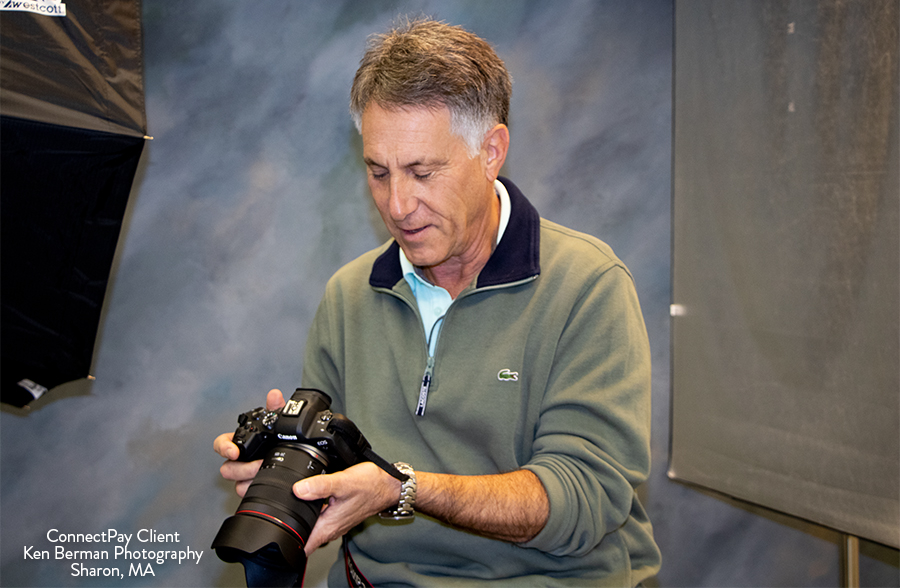 Massachusetts photographer Ken Berman knows a thing or two about being involved in his local community and economy. The second-generation photographer grew up in Sharon, MA, admiring his father's eye for photography until he was old enough to find and use the shutter himself.
In 1990, the passionate photographer and self-proclaimed "townie" opened up his own studio right on Pond Street in Sharon. Ken laughs reflecting on the early venture, "way back when…it was very difficult!"
Through experience, Ken learned what it takes to start and operate a small business. "As most small businesses start out, you don't have much," Ken nods, "there's certainly no money to throw around. So you've got to get it all going on your own. But if you love what you do, you're never working. And I love what I do!"
Owning and operating a small business in his hometown creates opportunities to support other local entrepreneurs. "We all help each other," Ken shares, "when somebody supports me, then I can support the other businesses in town." And every bit helps. "To me, small businesses are that backbone of America," Ken explains, "we need small businesses in our small towns, to keep those places lively and thriving, and the American economy generally."
Speaking from 32 years of experience running his own studio, Ken shares this piece of advice for entrepreneurs following his path: "If you treat clients right, and with respect, and always let them know that they're very important to you, you can build your business." Ken smiles, "Keep it simple. Offer good service. Be accountable. If there's a problem, admit it, fix it, and do what you have to do to make your clients happy."
Learn more about Ken's portfolio on his website.