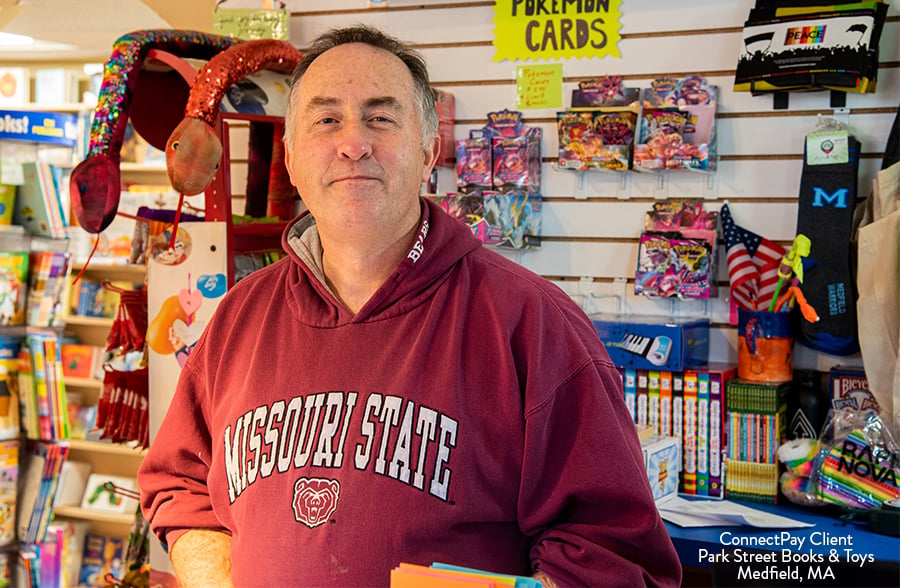 Did you know that these days you can support some of your favorite small businesses right from your couch? You'll never waste time taking a journey down Main Street to visit your favorite brick and mortars-but if you're unable to travel, or want to support businesses in another state or country, consider using these resources instead of shopping on Amazon!
Book-lovers, this one's for you! This massive online marketplace–often deemed an alternative to Amazon–connects readers with independent booksellers everywhere. The B Corp's mission is committed to supporting independent booksellers–going so far as to include language promising to "never sell the company to Amazon or any major U.S. retailer" in their official policy.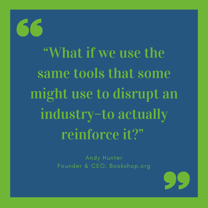 It
's an organization with such a deep affinity for preserving tangible literature
–
it'd be sure to make Bradbury, Granger, and the Book People, proud.
Bookshop.org was created in 2020 and has raised over $22M for independent booksellers through direct profit and profit shares.
Bookshop.org has been featured in the New York Times, The Washington Post, The Guardian, and Wired. The website sees over a million visitors a day. The US-based marketplace has grown enough to expand overseas with Bookshop UK and Bookshop Spain shipping books internationally.
Using the site:
Bookshop.org keeps it simple to find and support local bookstores. You can choose to generally search for a book you're interested in and you'll be provided lots of different shops to purchase from! Or you can choose to support one bookstore (perhaps a local favorite) and browse their catalog. Either way, when you make a purchase, the full profit will go directly to the shop you're supporting. Independent booksellers registered on Bookshop.org can expect to see a 1099-K in January.
How does my purchase help bookstores?
Orders from Bookshop.org are fulfilled by a distributor, keeping the shelves stocked at independent bookstores–and store owners still make full profit from the sale.Bookshop.org also offers affiliate links so that shop owners can earn even more. The profit share deposits means that in addition to full profit book sales, bookstores receive additional funding every six months from the B-corp's shared earnings pool.
Shopping for a book lover? You can also purchase digital gift cards right on the site. They never expire!
Don't miss it: Harriet's Bookshop
This black-owned bookshop is located in Philadelphia and pays homage to Harriet Tubman and her powerful legacy. Their Bookshop.org catalog offers thoughtful collections of similar memoirs, anthologies, and titles to inspire and educate readers. Harriet's Bookshop also offers several titles for children and adults focused on race and gender inclusivity.
Did you know that you can support ConnectPay clients right on Bookshop.org? Check them out below!

More of our clients are joining Bookshop.org every day - be on the lookout!
---
Goodbuy.org is an online marketplace that connects you directly to the online storefronts of small businesses! The small business shopping tool makes it incredibly easy for you to support the shops that matter the most to you.
Co-founders Cara Oppenheimer and Cary Fortin got started on Goodbuy out of a passion for supporting small business owners of all demographics.
As told on their blog, the story goes: the two young mothers met touring a local daycare and bonded over a stark lack of diversity in the classroom. From that moment, a deep friendship was formed–along with the brilliant idea for a business partnership focused on conscious shopping.
Using the site:

At the top of the Goodbuy marketplace you can actually search for items based on characteristics of the shop. You can find and support businesses that are:
Sustainable
Vegan
Cruelty-free
American-made
Certified ethical
AAPI-owned
Black-owned
Family-owned
Indigenous-owned
Latina/o/x-owned
LGBTQIA+-owned
MENA/SWANA-owned
Managed by owners with disabilty(ies)
Veteran-owned
Women-owned
You can search this online store for anything from scarves, to cooking utensils, to clothing, and more. When you find your item in Goodbuy, you can click "shop" and you'll automatically be redirected to the small business's storefront. It's that simple!
You can also download the iOS app and browser extensions to take it a step further supporting small businesses.
How does my purchase help small business owners?
Goodbuy utilizes a revenue share model. Each time goodbuy redirects a sale completed on your business' website, they make 10% of the sale. Small business owners can register for a Goodbuy account by linking to their Shopify storefront. Shopify is a third-party ecommerce platform that requires small business owners or sole proprietors to register a TIN or SSN to start selling. Shop owners can expect to see a 1099-K in January from Shopify.
Don't miss it: The Foggy Dog
Have no fear: there's something for everyone–even our furry friends–on Goodbuy. The Foggy Dog is a women-owned small business that sells American-made products. From ID tags, to collars, bows, leashes, and toys: your furry friends will be happy to get their paws all over these American-made goodies.
3. Etsy.com
Etsy is a popular marketplace dedicated to unique, handcrafted pieces. For years this marketplace has been setting the standard for online creators to create, market, and sell niche products.
Etsy is leading the pack as the first major shopping site to offset 100% of carbon emissions from shipping and packaging of every delivery. They've also committed to net zero emissions by 2030 and have partnered with EcoEnclose to ship items in recycled materials or certified responsibly sourced paper goods.
Using the site:
There's something for everyone on Etsy. From custom stickers, to jean jackets, to fuzzy blankets–and everything in between–there's probably someone out there making the item you're in the market for.
And if you can't find something? You could open up shop yourself–it only costs $.20 to list an item! There are some associated transaction and processing fees to review, but with Etsy, shop owners are considered independent contractors and can expect a 1099-K in January.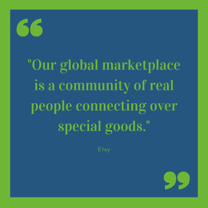 If you have a shop in mind, you can search for it and even leave a review for a stellar shop owner. For some of the best products and customer service on the ecommerce platform, look for shops marked as "star sellers" with a purple logo. You can search and sort items by type and select "handmade" to find unique, one-of-a-kind presents. To find local sellers, search by country and state to find and support local entrepreneurs closest to you.
How does my purchase help small business owners?
Though sellers pay a portion of selling fees to Etsy, for the most part, the seller takes home the majority of the profit. When you purchase a product from a seller, you'll also help to boost the shop owner's store and that will help them rank higher across Etsy.
Don't miss it: Kathy Weller Art
Kathy Weller is a local independent artist working out of Cambridge, MA. Kathy sells mugs, stickers, cards, books, bags, and more featuring her original artwork. Her artwork is centered on themes like self care; work; inspirational messages and quotes to help us all!
Full-service payroll small businesses can trust
At ConnectPay, we study and understand small business payroll and tax laws so small business owners can focus on core services. Have a question about payroll? Get connected with us today. We're ConnectPay: the small business payroll specialists.