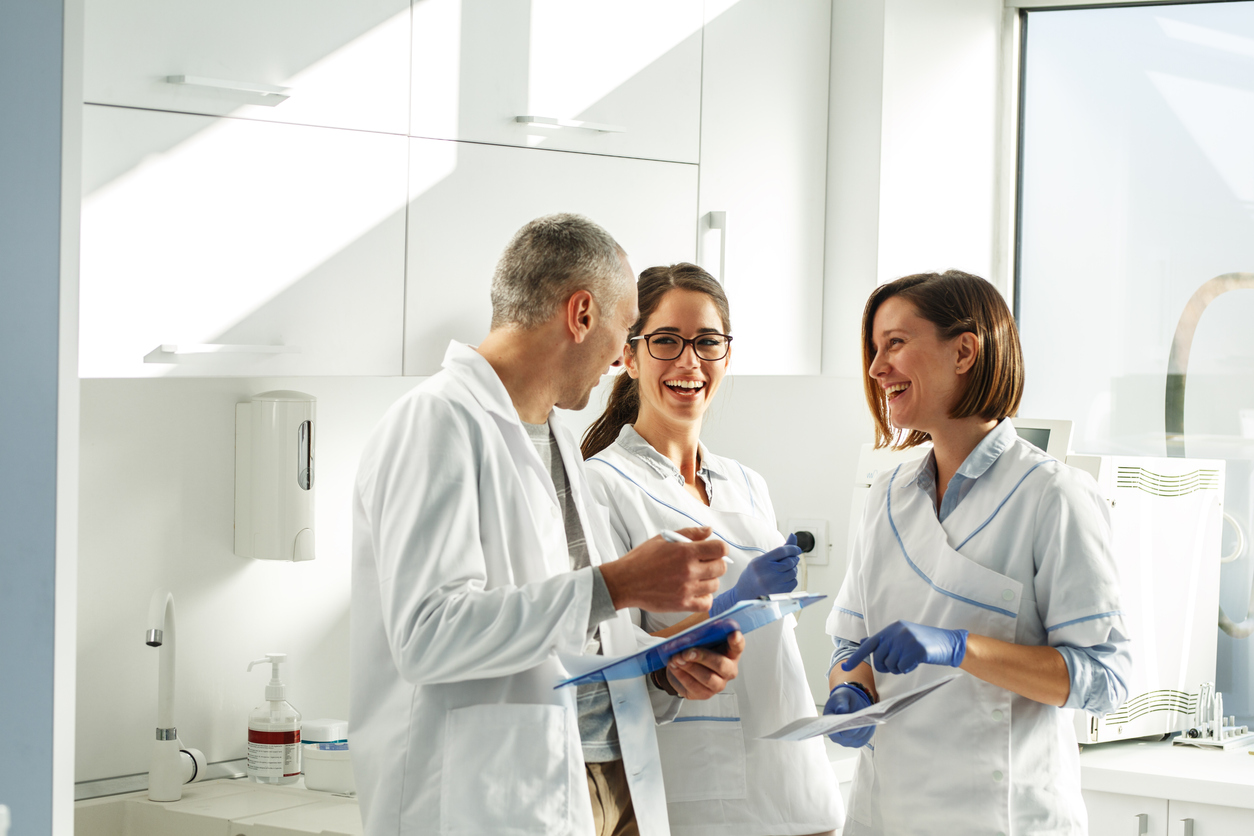 As a dentist, you already have a lot on your plate. It's understandable that HR management – although a necessary component of running your practice – may not be top of mind. However, a comprehensive HR management plan is vital to ensure your employees are taken care of and your practice remains compliant, reducing any chance of costly litigation.
To make the most out of your HR plan, here are eight considerations to keep in mind:
1. Talent Acquisition Takes Careful Time and Consideration
First and foremost, managing the hiring process is a vital component of HR. Start by writing, branding, and distributing job descriptions online. Make sure to keep your applications simple and streamlined, as a poorly designed online application can deter up to 60% of applicants from applying to the role, despite interest in the position itself.
Once applications come in, it may be tempting to accelerate the hiring process and skip seemingly less important steps to fill a role as soon as possible. But in doing so, you are putting yourself at risk of hiring the wrong person for the job (while simultaneously missing out on other top talent). Take your time, ask questions that matter to your practice, and be transparent about your offerings to find the best-suited person to compliment your team.
Background checks are also recommended when hiring new talent, as these checks allow you to make the most informed decisions for your practice. Use a trusted background check solution to vet prospective employees, examining their criminal background, employment history, and references.
2. Efficient Onboarding Maximizes Employee Retention
Once you've found the right employee for your practice, a smooth employee onboarding process is essential when building a successful team. Employee retention starts at onboarding all new employees need to have the tools, resources, and support required to transition into their new position comfortably – only then will they be able to thrive moving forward. Otherwise, you are setting both your employees and your business up for failure.
A digital talent management program is an important tool to use, allowing you to oversee the onboarding process and track when new hires complete their tasks. Start by pre-boarding employees before their start date, assigning paperwork, and other related tasks via an online portal. This will free up time on their first day, giving new hires more opportunities to learn about their role, meet their team members, and adapt to the functions of your practice.
While it's important to establish a standardized onboarding process, keep in mind that the experience can also be personalized to each employee. Try to learn more about your new hire's strengths and passions to tailor the experience to them. Once the employee has been fully onboarded, ask for feedback on the process and make necessary adjustments in the future. Continue to perform periodic check-ins with the employee, gauging their experience and increased comfort levels as time progresses.
3. An Employee Handbook Protects Your Employees AND Your Practice
Your employee handbook introduces your company's mission, vision, policies, procedures, and culture to new hires, while also serving as a guidepost for employees and managers alike. Not only does your employee handbook set the stage for new employees, outlining your company's values and expectations, but it also provides HR managers with a go-to way to handle delicate internal conflicts on an ongoing basis, serving as a simple reference tool when managing difficult employee situations.
Many pieces of the employee handbook are established at the company level, such as work schedules, employee benefits, attendance, timekeeping, technology usage, conflict resolution, and dress code. Other applicable inclusions must be made based on federal, state, and local laws, such as mandates on pay equity, minimum wage, paid sick leave, anti-discrimination, harassment, and reasonable accommodation.
It's important to consistently update your employee handbook to reflect the latest changes in labor laws and company policies. Per HR best practices, employers should review and update their employee handbooks at least annually. However, some items may call for more immediate action, especially when legal compliance is involved. Employees should sign off that they have read the employee handbook at the beginning of the onboarding process, as well as when significant changes are made.
4. Compliance Training Cultivates A Healthy Working Environment
Dental practices should embrace the processes and technology needed to effectively manage compliance on an ongoing basis. Better compliance management practices will enable offices to identify, develop and retain not just all employees, but the right ones. Furthermore, not only does compliance training set expectations for your employees, but it also shows that your practice actively tries to prevent harassment and discrimination within the workplace, guarding your business against potential lawsuits brought on by the Equal Employment Opportunity Commission (EEOC).
There are HR management tools available that can offer your practice a suite of online employee trainings, including sexual harassment prevention training, workplace violence prevention training, diversity training, cybersecurity training, and more. Beyond employee trainings, there are also compliance trainings that cover the ins and outs of important federal compliance requirements around topics like Family Medical Leave Act (FMLA), COBRA, and HIPPA laws. In unison with these trainings, it is also important to post the most current federal and state-specific labor law posters in your office, giving your employees a way to easily see updates.
5. Accurate Timekeeping Reduces Administrative Headaches
Under the Fair Labor Standards Act, you must pay nonexempt employees for all hours worked, retaining their payroll records. By using a digital time and attendance solution to monitor time tracking, your practice can ensure time is logged accurately and employees are paid correctly. This can help increase employee trust, eliminate "time theft," improve workforce oversight and save you money by controlling labor costs.
Digital solutions are typically preferred over paper timecards. Time tracking software allows staff to easily clock in from any authorized computer, monitors punches with GPS-accurate mobile tracking, and provides a simple way to approve, adjust, and search payroll records.
6. Paid Time Off Increases Workplace Satisfaction
Beyond everyday punches, a time and attendance solution also allows you to track overtime or paid time off (PTO) under one unified system. PTO, including paid holidays, vacation days, and sick time, is a key attribute of workplace satisfaction. Although there is no federal law requiring businesses to provide vacation days, state laws vary and it's always easier to attract better talent with a solid PTO offering.
There are a few different ways your practice can handle PTO. For example, vacation and sick days can either be separated or lumped together as one package. Additionally, an employee's time off can be allotted annually or accrued over the year based on the number of hours worked. Typically, an accrual program is recommended as it usually results in better cash flow for your practice.
7. Good Employee Benefits Help Your Practice Stand Out
To track and retain the best people, employers are also encouraged to offer a comprehensive employee benefits package to their team. To understand the best benefits package for your practice, it's important to connect with a capable insurance broker that can lay out the options available to you.
When it comes to health programs, consider offering either a Flexible Spending Account (FSA), Health Reimbursement Account (HRA) or a Health Savings Account (HSA) to your employees. Additionally, to take advantage of employee tax savings, businesses need to establish a Section 125 Plan to allow employees to pay for their group health plans with pre-tax salary deductions.
Beyond health benefits, a 401(k) plan is a convenient and effective way for employees to save for the retirement they envision. Employees can make traditional 401(k) contributions with pretax dollars or use a Roth 401(k) plan in which contributions are made with post-tax dollars so employees can make tax-free withdrawals in retirement. Some 401(k) plans also offer companies special tax breaks so be sure to consult with your insurance broker.
8. Breaches in Confidentiality Could Pose Major Consequences
HR professionals must hold themselves to the highest standards when it comes to confidentiality. Often, employee information is highly sensitive and must be protected against data breaches and unauthorized disclosure. Consequences could include regulatory penalties for noncompliance, loss of employee trust, or even lawsuits.
It's important to maintain two confidential HR files – a general file and a private file. Inside the general file, you can house employment applications, offer letters, performance reviews, emergency contact forms, and payroll records for the past 3-5 years. In the private HR file, you must keep background checks, drug test results, medical records, benefit enrollment forms, litigation or termination documents, workers' compensation claims, payroll verification requests, and IRS Form I-9s.
If a breach in confidentiality ever comes into question, it's good practice to have a trusted employment lawyer to turn to whenever you need further advice.
And don't forget payroll!
While managing HR takes careful consideration, these eight tips should give your practice a clear path to success as you begin to craft your compliance management plan. However, keep in mind that HR is only the tip of the iceberg. To keep your employees happy and operations running smoothly, your payroll processes should also be fine-tuned. Download our Payroll Checkup below to ensure your payroll is running as efficiently as possible!